How to Make Avial in Kerala style
Avial in Kerala style
Preparation Time : 10-15 minutes
Cooking Time : 20-30 minutes
Servings : 8
INGREDIENTS: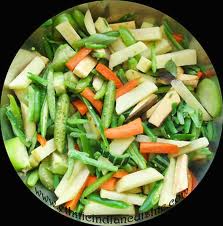 Vegetables:
Brinjal : 4
Carrot : 1
Cucumber : half of a normal size Cucumber
Mango : half
drumstick : 1
Hyacinth Beans (Avarakkai) : 10
Ladies fingers : 3
Raw banana ( nenthranka) : 1
Elephant Foot Yam ( senai kizhangu) : 100 gms
Other Ingredients:
Tarmarind paste : 1 tsp
Turmeric powder : 1/3 tsp
Mustard seeds : 1/2 Tsp
Coconut oil : 2 Tablespoons
Curry leaves, salt to taste.
Ingredients for grinding:
Small onions – 2
Grated coconut – 1 full cup
Cumin seeds – ½ Teaspoon
Garlic flakes – 2
Ginger – 1/2 Inches
Green chilly – 2
PREPARATION METHOD:
Step: 1
1. Grind the grated coconut, small onions, green chillies, cumin seeds, garlic flakes to a very coarse consistency and keep it separately. Don't grind the coconut too much, Just a swing is enough.
2. Chop all the vegetables into 2 inch long pieces.
Step: 2
1. Pour 1 tbsp of Coconut oil in a heated pan and when it is hot, add 1/2 tsp mustard seeds.
2. After mustard seeds splutters, add curry leaves and saute it well.
3. Now add all the chopped vegetables and saute it for a minute.
4. Keep the flame low, close the pan and allow it to cook for 10 minutes.
5. When the vegetables are half cooked, pour 1/2 cup of water (Don't add too much), add tamarind paste, turmeric powder, salt and allow it to cook on high flame .
6. Stir it occasionally , Don't over cook the vegetables.
7. When the veggies are cooked, add the ground mixture, mix it well and allow it to cook for 1 minute and turn off stove.
8. finally add 1 tbsp of coconut oil and curry leaves.
Now kerala Avial is ready to serve.