Lyrics in English
Nila, Nila, Odi Vaa
Nillaamal Odi Vaa
Malai Mela Eri Vaa
Malligai Poo Kondu Vaa.
Lyrics in Tamil
நிலா நிலா ஓடி வா
நில்லாமல் ஓடி வா
மலை மேலே ஏறி வா
மல்லிகைப் பூ கொண்டு வா
பட்டம் போல பறந்து வா
பம்பரம் போல் சுற்றி வா.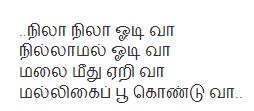 Translate
Moon, Moon, come running to me.
Don't stop while you run.
Climb over the mountain and,
Bring a Jasmine Flower when you come to me.
Video Free Download
#1